RSRI BEST MANAGER COMPETITION 2020
                  (RSRI BMC 2020: SECOND EDITION)
                                         Organized by                                          REST Society for research International (RSRI)                                         12th December 2020
Prizes
1. Winner will get Rs.10,000 cash with the Best Manager Award Certificate.
2. Top 10 winners will get the Best Manager Award Certificate.
3. Faculty who guided the top 10 winners will be Awarded RSRI Droṇacharya Award.
4. Certificate of Participation will be given to all participants.
Rules
All UG, PG, and Ph.D. Scholars can participate in the Event. The entire event is conducted through online mode. The Competition consists of 4 rounds (Video Presentation, Marketing Skills, MCQ Exam, and Interview.) winner will be selected based on the sum of marks scored in each round. The decision of the Judges is final and incontestable. Organizers reserve the right to change the timelines and rules.
Evaluation Process
Presentation (20 Marks): Every Participant will have to make 15 - 30 min.Recorded video Presentation on any interesting current topic. Evaluation is based on Content, flow, and clarity of presentation, and confidence level.
Marketing Skills (30 Marks):All Participants will be given one marketing task, and relative grading will be carried out for all participants depending on the performance in marketing
MCQ Exam (20 Marks):Every participant will get 20 simple multiple-choice questions and the test will be conducted online through the google form
Interview (30 Marks):Every participant will be asked to sit in the interview panel for five minutes and grading will be carried out as per the performance.
Registration Details
*Participants have to pay(RSRI Member- Rs 200, Non-RSRI Member- Rs. 250) as registration cost. Registration cost can be paid through Paytm, google pay, and phonepe to this number 9025493434
Bank details
Account name: M. Murugammal
Account no: 35324345531
Bank: State Bank of India, Kaveripattanam
IFSC code: SBIN0007463
*Last date of registration is 15 October 2020.
Contact Details
For any queries contact the below details
Admin Head: 9025493434(whatsapp)
Email: [email protected]
Glimpses of RSRI Best Manager Competition 2019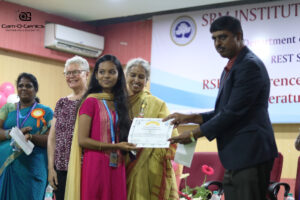 RSRI BEST Manager Competition 2019 Awardee