One Week STTP on Recent Trends in Research Methodology (Online Mode)     
22 - 27 February 2021
                                 Organized by                                         St. Claret College, Jalahalli, Bangalore
NAAC Accredited; Permanently affiliated to Bangalore University REST Society for Research International (RSRI)     
About the Workshop
All Registered participants will get both Soft copy and Hard copy  Course Completion Certificate and those who got 50℅ scores in the final online Exam will get Qualified the Exam certificate and Topperswill get Topper in  Exam certificate and lifetime membership of RSRI Society. Participants once paid and registered through google form will be added to the WhatsApp group of Workshop within 12 hours from the time of registration. All the instructions, the link of Prerecorded videos, the link of the Mock exam, the link of the final exam, and the link for downloading the Softcopy certificate will be shared through the WhatsApp group only. There will not be any email confirmations. All queries will also be addressed through WhatsApp (WhatsApp no: 9025493434) only. Participants can use the WhatsApp group discussion platform for asking the questions related to lectures and all valid questions will be addressed through a vide
workshop Brochure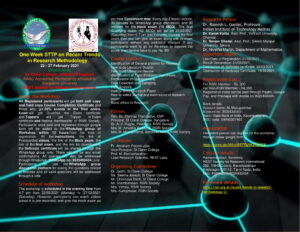 Schedule of workshop
The workshop is scheduled in the evening time from 4-7 pm from 22/02/2021 (Monday) to (27/02/2021 (Saturday). However, participants can watch videos(since it is pre-recorded) and give the mock exam as per their Convenient time. Every day 2 hours lecture, 30 minutes for WhatsApp group discussion, and 30 minutes for the mock exam (10 MCQ). The final Qualifying exam (40 MCQ) will be on 27/02/2021 (Saturday) from 6-7 pm and if anyone missing the final exam then you can give an exam along with re-exam participants without any additional charges. If any participants want to go for Re-exam to improve the score, then he/she have to pay Rs. 80/.
Course Content
Identification of General problem for Research
How to do Literature Search
How to do Literature Review
identification of Topic/Problem/ Hypothesis
Formulation of Questionaire
Data Collection and Sampling
Data Analysis
How to Write Research Paper
How to select journal and submission of research paper
Basic ethics in Research
Patron
Rev. Dr. Thomas Thennadiyil, CMF Principal, St Claret College, Bangalore.
Dr. A. V. Raghu, President, RSRI Society
Mrs. M. Amudha Registrar, RSRI Society
Mrs. M. Murugammal, Accounts Head, RSRI Society
Co Patron
Fr. Abraham Patteril Jose, Vice-Principal, St Claret College
Prof. M. Ramachandran, Lead Research Scientist, REST Labs.
Organizing Committee
Dr. Jyothi, St Claret College
Ms. Seema Joseph, St Claret College
Mr. Chinmaya Dash, St Claret College
Mr. Silambarasan, RSRI Society
Mrs. Vimala, RSRI Society
Mrs. Kurinjimalar, RSRI Society
Resource Person
Dr. Ramesh L. Gardas, Professor, Indian Institute of Technology Madras
Dr. Kanak Kalita, Asst. Prof., VelTech University, Chennai.
Dr. Ranjan Ghadai, Asst. Prof., Sikkim Manipal University, Sikkim
Dr. Nivetha Martin, Department of Mathematics.
Important Dates
Last Date of Registration: 21/02/2021.
Result Declaration: 01/03/2021.
Distribution of  Softcopy certificate: 05/03/2021.
Distribution of Hardcopy Certificate: 15/03/2021.
Registration Cost
For RSRI Member - Rs. 300.
For Non-RSRI Member - Rs.350
Registration costs can be paid through Paytm, Google Pay, and Phonepe with mobile no 9025493434.
Bank details:
Account name: M. Murugammal
Account no: 35324345531
Bank: State Bank of India, Kaveripattanam
IFSC code: SBIN0007463
Registration
Interested person can register for the workshop through below google form